Go Back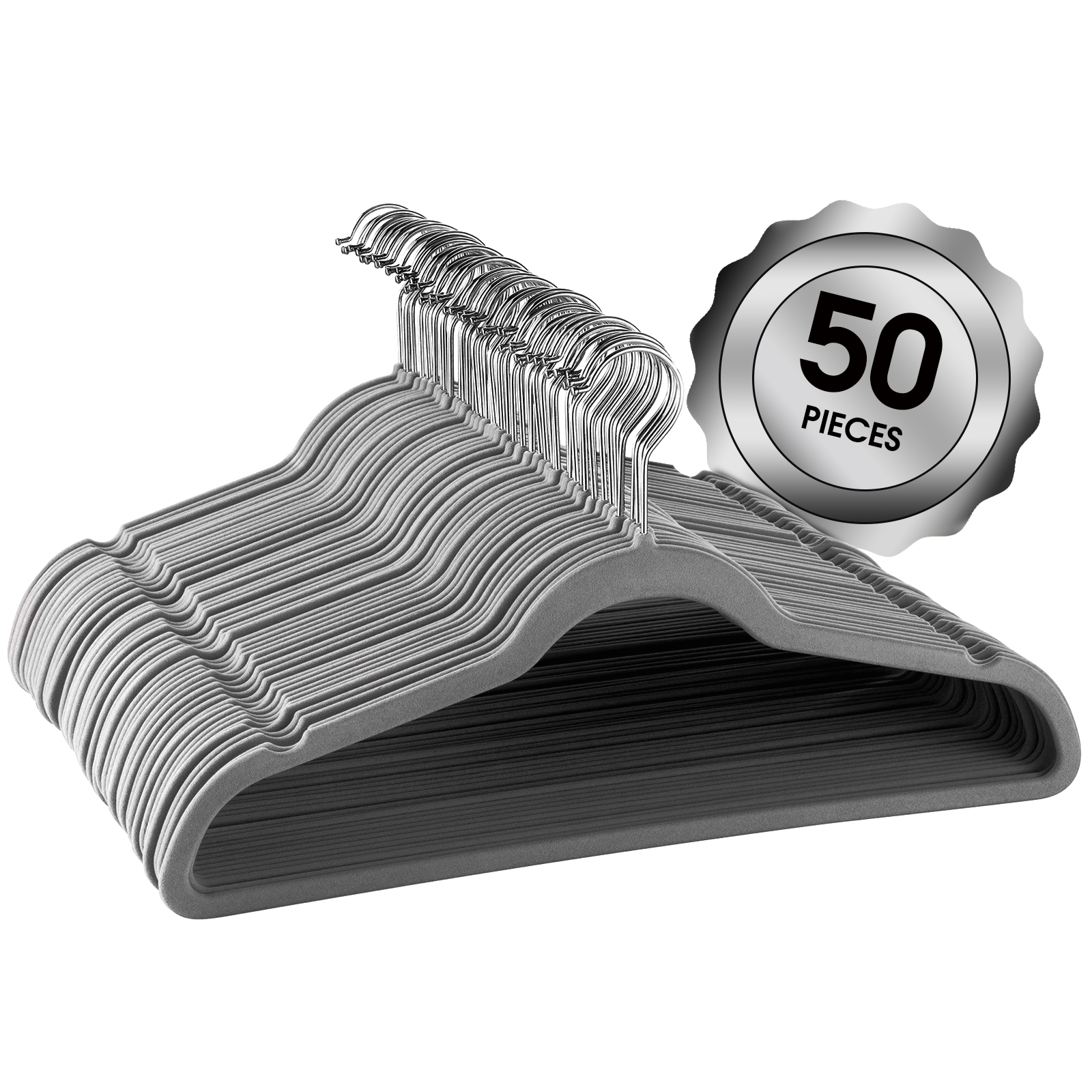 HANGER50PIECEGRAY
Elama Home 50 Piece Flocked Velvet Clothes Hangers with Stainless Steel Swivel Hooks in Gray
The Elama Home gray flocked velvet hangers are durable and sturdy, designed to hold large and heavy pieces of clothing. It's stronger and much more lighter than wooden hangers, but much sturdier to hold heavier and bulkier clothes without bending. These hangers are a great choice for suits, coats, skirts, shorts dresses, sweater, pants, belts, ties, shawls, thin strap shirts, tanks and women undergarments, camisoles and all your winter clothes.

The Elama Home flocked velvet hangers feature a non slip and supreme soft luxurious velvet feel instead of plastic or metal. It holds clothes without falling or sagging and leaving your clothes crease and wrinkle free. The contour shoulders prevents widening of the neck and clothes from slipping off the gentle yet firm non-slip surface hanger. Flocking also does not shed or fade onto your clothes, leaving your clothes looking as fabulous as the day you hung them.

Why do our hooks swivel? Because each Elama Home flocked velvet hanger has a nut at the bottom of the hook so they can rotate 360 degrees by a simple twist without drop out. The designed swivel hooks enable you to sort through your clothes easily no matter which direction they hang. The swivel hooks are securely attached to the clothes hangers, so you can hang heavy clothes and the hooks will not snap off or break.

The Elama Home Flocked Velvet hanger have a 0.2" thickness, making these velvet hangers slim and sleek while you double maximize and organize your closet space.
Item Weight: 3.75 lbs
Item Dimensions: 19.00l x 10.00w x 9.50h